The Enquirer tipped the firm as likely winner last month after it emerged Bam, Morgan Sindall, Sir Robert McAlpine and John Sisk were lagging behind in the race for the prized job.
The Technology and Innovation Centre will bring together academics, researchers and project managers from the university and its leading industrial partners to find solutions to challenges in sectors central to economic regeneration in Scotland and further afield, including power and energy, health and advanced engineering.
It will be the first of its kind in Europe and will become the cornerstone of the International Technology and Renewable Energy Zone – Scotland's hub for global green energy developments.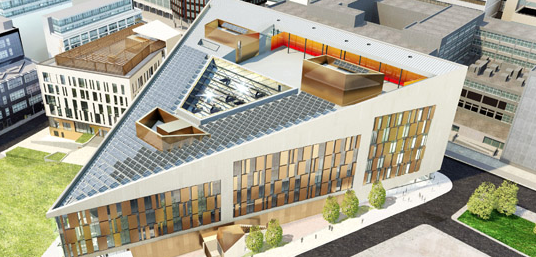 The triangular, nine-storey, steel-framed building will be constructed on a 260,000 sq ft brownfield city centre site adjacent to the university over an 87-week period.  It includes open plan offices, three lecture theatres and specialist laboratory space.
The facility will be built to Energy Performance Certificate (EPC) 'A' rating standards – the industry's highest energy-efficiency standard.
Lend Lease executive director, Michael Dyke, said: "The Technology and Innovation Centre will be a global centre of research excellence and winning the contract is a great result for Lend Lease.
"We are particularly excited about working with the University of Strathclyde to bring economic, sustainable benefit to the local community through the involvement of small businesses, social enterprise groups and employment of new entrants to construction.
"We are committed to recruiting 10% of the project's workforce from people who have never worked in the sector."
"Lend Lease is currently building some of Scotland's biggest and most technically challenging construction projects, including The Hydro in Glasgow – a 12,000-seater venue which will bring the biggest acts in the world to the city."