Willmott Dixon strikes £23m care home deal
Willmott Dixon will deliver nearly 200 extra care apartments in Derbyshire after being chosen by Chevin Housing Association to build three projects.
The £23m contract is in the final stages of being agreed with the association, which is Derbyshire County Council's chosen partner to build and manage three extra care schemes.
Derbyshire schemes

• 55 two-bedroom  apartments and communal facilities with parking and gardens at Foolow Court in Foolow Avenue, Chesterfield

• 52 apartments and communal facilities on the Cressy Fields site in Cressy Road, Alfreton

• 90 apartments with communal facilities and day care centre on former Clay Cross School site in Market Street in Clay Cross
Planning permission has already been granted for the Foolow Court scheme, while the Market Street and Cressy Fields schemes are due for planning determination shortly.
Peter Owen, managing director of Willmott Dixon's Midlands office, said: "These schemes will really make a difference to the provision of state-of-the-art and affordable housing in Derbyshire, providing highly specialised, quality living space with 24/7 on site care where needed for older people across the county."
Talk to the Enquirer. To share your stories email Grant Prior or Aaron Morby... always off the record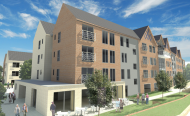 Willmott Dixon has completed or is building 1,000 care units in the past five years
Contractor Services