The jib of the Jost luffing crane buckled onto the roof of the Cabinet Office during the storm which caused chaos on construction sites.
Eye witnesses at photo agency Political Pictures said the crane collapsed at 6.50 this morning.
Debris from the damage balustrade of the Cabinet Office roof fell into Whitehall but no-one was injured.
It is understood that the crane was due to be dismantled this weekend but the job was cancelled due to bad weather warnings.
Deputy Prime Minister Nick Clegg has cancelled a scheduled press conference at the Cabinet Office this morning.
He tweeted: "Today's press conference moved to a day when there isn't a crane on the roof and journalists travelling on the train are able to join us."
A mobile crane has now been brought in to remove the stricken structure.
Many major sites were also in lock down this morning across the region with tower cranes unable to operate in the high winds.
A crane jib also failed at a site in Old Kent road, south London.
The London Fire Brigade said it was having to deal with a string of incidents across the capital.
A spokesperson said: "We're having a busy morning and are attending a number of wind related incidents- mostly trees & scaffolding in precarious positions."
In Leyton, east London Francis Road was blocked when 100 metres of two-storey scaffolding blew down.
And in Mayfair's Berkeley Square, west London a large scaffold structure came down this morning.
More updates here as incidents are reported.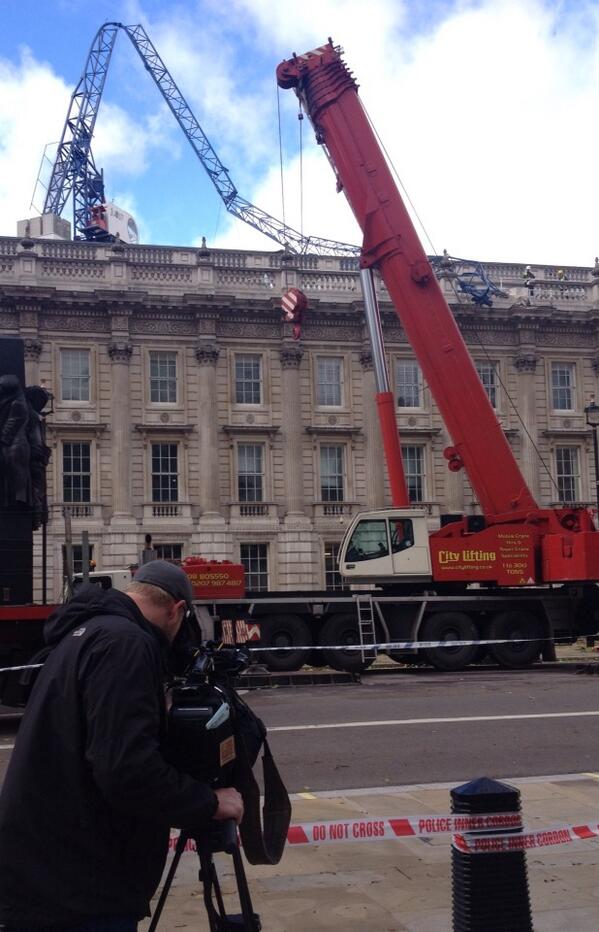 A mobile crane is removing the damaged jib from the roof: Courtesy of Political Pictures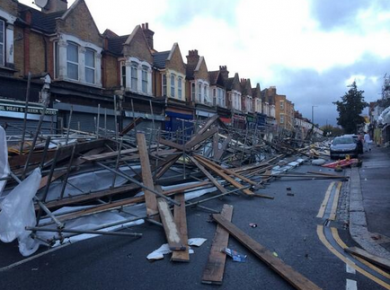 Leyton scaffold collapse in East London. (Picture courtsey of twitter@MarkyBoyLondon)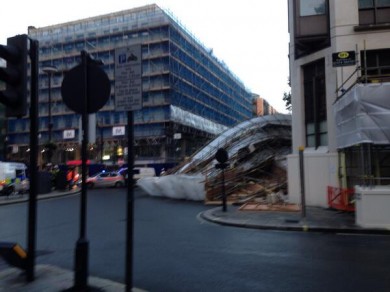 Scaffolding and hoarding collapse in Mayfair, West London. (pic.twitter.com/0Y4pp9Rfar)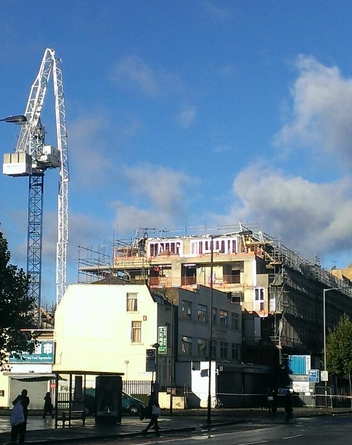 Luffing crane jib crashes through roof on £12m Allenbuild job for London & Quadrant Housing Trust in Old Kent Road, South London. (pic.twitter.com/zvR3QhoNQY)