The new rail/tram interchange will be built next to the A8 at Gogar. It will improve access to Edinburgh airport for people from the North East of Scotland and Fife.
Balfour's civil engineering division will build a two storey station building, with two 260m long platforms, an overbridge and pedestrian subway under the A8 from the Gyle Shopping Centre.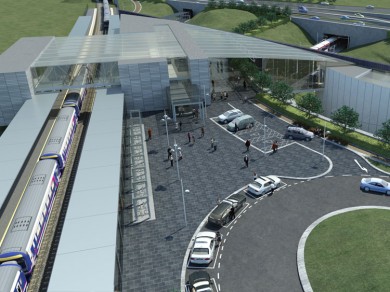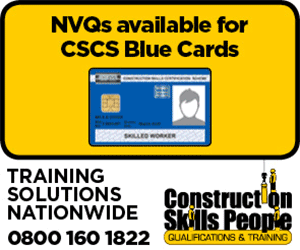 Detailed scope of works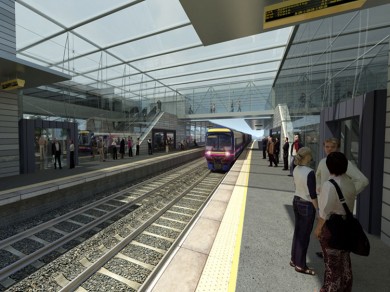 Platforms: 260 m long flank platforms with 3.9 m clear headroom to canopies and 4.0 m clear width.
Station Buildings: Two-storey main buildings (on northbound platform, south of the railway) incorporating a 302.5 m² concourse, with 3m wide by 3.2m high footbridge, that also connects to the existing 2-storey Edinburgh Tram building via a tapered footbridge over the tram tracks.
Retaining Wall: Approximately 130 m long, 7.5 to 8 m maximum height, 30-35 m of which acts as a bridge abutment for the pedestrian footbridge/concourse.
Underpass below the A8: Connects the new Edinburgh Gateway Station to the Gyle Centre car park. 5.5 m wide by 2.75 m high (at crown), approximately 45.5 m in length. Automatic sliding lockable doors are incorporated at either end of the underpass, and the underpass is lit with CCTV security provision.
Covered Walkway: A covered walkway is included connecting the station with the underpass.
Car Park and Highways Alterations: 7.3 m wide single carriageway road running from a new priority junction with the proposed link road to the A8 grade separated roundabout. Taxi drop off/pick up with dedicated disabled parking bays outside of the main station entrance. Bus services are catered for with the provision of two dedicated bus stands.
Access: Three lifts allowing step free access to all areas and 6 escalators with adjacent stair cases allowing access to northbound and southbound platforms and the Edinburgh Tram stop.
Telecoms: CCTV and Customer Information Systems. A structured cabling system will be provided for end-to-end connectivity of the communications equipment and will also be provided for the platform and ticket office ticketing systems.
Utilities: Several utilities will require to be diverted as a result of the proposals.