Fifthteen places are up for grabs on lot 1 covering supply of a range of multi-disciplinary services from project management to full design team services. This lot alone is estimated to be worth £1.3bn to £2.3bn.
A bidders' conference via a webinar is planned for the week starting 26 September for interested firms to seek clarification on procurement matters. Companies will need to register through the Governments e-sourcing website (below).
As a new requirement all consultants bidding will be required to have cyber security accreditation, Cyber Essentials Plus, as Government seeks to further reduce the levels of cyber security risk in its supply chain.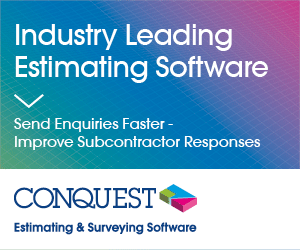 The two-year framework, which includes options to extend for two years in the work value forecasts, will be open to all UK central government departments, its agencies and the wider public sector.
There will be 10 places going for all other specialist service lots, other than lot one. Firms will be restricted to bidding for the major multi-service project plus two specialist lots or all specialist lots but not the multi-service category.
Pan Government Framework Agreement details
Lot 1 — Multi-Disciplinary Services. Value: £1.29bn-£3.2bn
Lot 2 — Project Management Services. £75m-£134m
Lot 3 — Architectural Services. £117m-£209m
Lot 4 — Cost Management Services. £42m-£75m
Lot 5 — Civil & Structural Engineering Services. £46m-£83m
Lot 6 — Building Services Engineering. £42m-£74m
International work lots, previously planned for the Crown Commercial Services bid competition, are now being procured by the Ministry of Defence.
Further details on the webinar and invitation to tender are available from the eSourcing website.