Full details have yet to be released but the building, to be known as the Diamond Tower, will rise to more than 150m.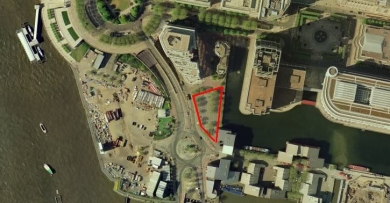 Site location of new tower of 500 luxury flats.  The small floor plate will lead to a slender tower.
It will be the first fully residential tower on the Canary Wharf site and takes its name from the repeat pattern of the shell supporting steelwork.
A planning application for the Newfoundland plot is due to be submitted in October.
The site was previously earmarked for a mixed-used development of shops and a hotel.