In a post on the Bristol Indymedia website, the group calling its self the Angry Foxes Cell says members climbed into the quarry and 'left it with flames licking high'.
It adds: "After climbing into the quarry we used accelerant to burn the major electrical cables at five junction points throughout the complex, and doused and lighted a pallet of electrical fittings and wires."
On the same night the group also claims to have attacked two vehicles near St George, Bristol with paint stripper and by slashing the tyres – one G4S and one Amey.
A spokesman for Avon and Somerset Police said: "We are aware that someone has claimed responsibility for the fire, but we are keeping an open mind until a full investigation has been carried out by the fire service together with our own police and forensic teams.
Fire fighters spent most of yesterday battling with the huge blaze at Miller's construction site at Black Rock Quarry.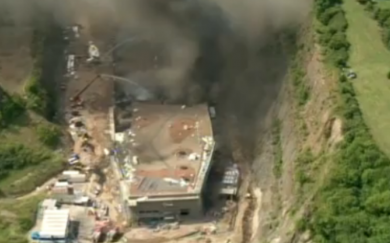 Firefighters remain at the scene today damping down and dealing with hot spots and investigators will only begin their work once the fire has been completely extinguished and it is safe for them to access the building.
The £18m firearms training centre job had reached the fit-out stage of construction.
At least half of the project is understood to have been destroyed with the roof of the building collapsing during the fire.
Assistant Chief Constable, Dave Hayler, said: "This is a very sad day for us. We're devastated to see the impact of the fire. The training centre is a new state of the art development designed to train firearms officers across three forces. For the communities of Avon and Somerset, Gloucestershire and Wiltshire whose officers will be trained there, it's a tragic setback
"The damage is extensive and we'll be working closely with fire investigators and our own forensic teams to understand what happened to cause such a large fire. The fire service will be on site for some days to come until they're absolutely satisfied that any danger of the fire relighting is exhausted.
The facility, which contained two indoor firing ranges and classrooms, was planned to open early next year.