Their decision underlines growing confidence in the economy and holds out hope that construction of the first phase of the £4bn scheme to double the size of the shopping centre in Hendon could get underway before the end of 2015.
The joint developers said three key improvements would make the project viable and deliver wider regeneration of the surrounding area.
These include covering streets and spaces in and around Brent Cross in a transparent canopy to create a protected retail, dining and leisure space.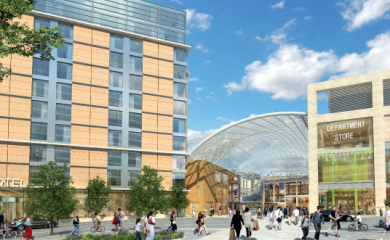 Hammerson will also build a new pedestrian bridge over the North Circular Road (below) and speed up delivery of some of the major transport improvements.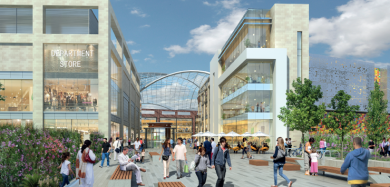 Public consultation on the amendments took place over the summer with an average of 87% of respondents supporting each of the three proposed changes.
Mike McGuinness, Development Director at Hammerson, said: "Brent Cross has been an important part of the community for over 35 years and our plans ensure it will continue to be part of a thriving new town centre, putting this part of London truly on the map as a popular neighbourhood and retail destination.
"This is a rare opportunity to make a real and significant improvement to local people's lives and we were really encouraged by the positive responses from the consultation."
James Stevens, Head of UK Development at Standard Life Investments, said: "The positive public response just underlines what people have been telling us since the start of the summer.
"They want a local transport network that works for pedestrians, cyclists, cars and public transport users, alongside better shops and restaurants, new homes and jobs, modern schools and community facilities plus great parks and open spaces, which is what the wider Brent Cross Cricklewood masterplan will deliver."
With the planning application now submitted, Barnet Council will hold its own statutory public consultation on the regeneration proposals.
The ambitious area regeneration masterplan drawn up with Barnet Council also includes plans to construct 7,500 homes, 4m sq ft  of offices and create four parks.