As tipped in the Enquirer last year Carillion will build the scheme, named Hoola, which will provide 360 new mid-market homes for private sale.
The 0.5ha site has been cleared and planning submitted to the London Borough of Newham for a 23 and 24 storey tower, designed by CZWG Architects.
Construction is scheduled to begin on the £80m scheme in mid-2014 on the mixture of one, two and three bedroom apartments, with completion earmarked for late 2016.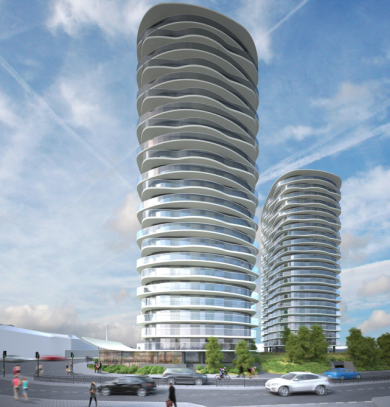 Carillion were selected as part of their wider growth in the London residential sphere, which saw them chosen for the first phase residential development at Battersea Power Station last year.
HUB Residential was incubated by Squarestone in late 2012 with the aim of bringing quality new homes to within reach of working Londoners, with a focus on design-led and community orientated schemes.
The scheme is expected to go to committee later this month, subject to acceptance work will start on site as soon as that happens.
Steve Sanham, Development Director at HUB Residential said: "We're delighted to have appointed Carillion for our Victoria Docks development.
"They bring a wealth of experience and quality to a scheme that we see as a figurehead for housing development in London that is within reach of hard-working Londoners but does not compromise on design or standards."