Around £75m will be spent on repairs, £15m on maintenance and £10m on specific flood measures for the Somerset Levels.
Taking charge of the COBRA emergency committee, David Cameron said it was a "false choice" to protect either the towns or the countryside, after the Environment Agency said it did not have enough resources to look after both.
"I think what we need to see, and where I think the debate is now rightly going, is that from the late 1990s – far too long – the Environment Agency believed that it was wrong to dredge," he said.
"Those of us with rural constituencies that have been affected by flooding have seen the effectiveness of some dredging that has taken place. Now if it is good for some places, we need to make the argument that it would be good for many more places.
"I have said that we are going to see dredging on the Tone and the Parrett in the Somerset Levels because that would make a difference.
He said that that Natural England, the Environment Agency must work out a new approach that will make sure that "something that did work, frankly, for decades and centuries is reintroduced again."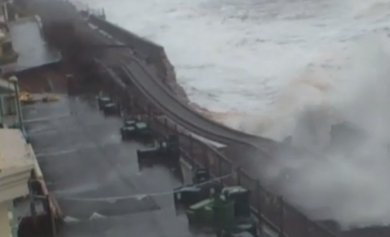 Cameroon added: "I have seen the shocking pictures of the destroyed train line in Dawlish and I am determined that while it is out of action, the public get a proper alternative service and a solution is found to fix it, as soon as possible."
Network Rail engineers are facing what has been described as the biggest structural engineering challenge in a decade in the south west.
The Great Western railway line was left dangling in the air after sea wall was washed away in several places during the storms yesterday.