The contractor has also taken a stake in the development joint venture set up by Ask Real Estate and Tristan Capital Partners.
Eventually, the development will see two office blocks of 172,640 sq ft and 150,000 sq ft built, along with a 442-space car park.
Work will start on the £56m contract to build the larger office building and car park in June.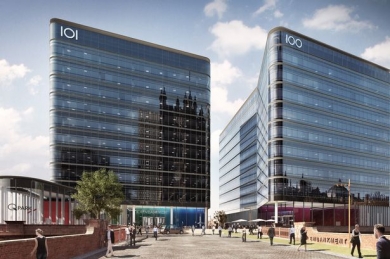 Salford City Council has signed an eight-year pre-lease on the office building and Q-Park taking a 35-year pre-lease for the 442 space car park.
The Embankment development forms part of the wider Greengate regeneration scheme, bordering Manchester and Salford, which aims to attract £400m of private investment and create 5,200 jobs.
Greengate takes its name from the main street that ran through the historic core of Salford to the River Irwell and the Greengate & Irwell Rubber company that was in the same area.
Simon Eastwood, managing director of Carillion Developments said: "We are delighted to be part of the group who will deliver this prestigious development which will help regenerate this area.
"This project adds to a number of high profile projects in Manchester which Carillion is involved in, including Manchester Airport City No. 1 First Street and One St Peter's Square."