The council claims to have slashed £250m from original cost estimates set three years ago on what is the first project to go-ahead supported by a UK Government Guaranteed Bond.
Work will now start next month on a project, 20 years after the need for the bridge was first identified.
Kier Infrastructure is one of the three Merseylink partners which include Korean Samsung C&T Corporation and Spanish FCC Construcción.
The six-lane approach road and bridge project will employ around 470 permanent full-time equivalent jobs on site during construction.
Bridge spec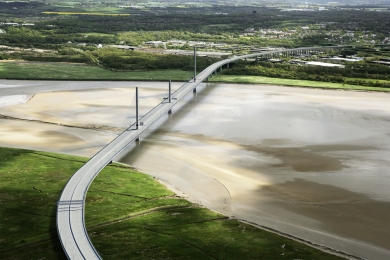 A 1km long cable stay bridge of four spans supported from three towers in the estuary
Unique design where the 80m high central tower will be shorter than the two outer towers, which will be 110m (north tower) and 125m (south tower)
Total length including approach viaducts of 2.13km
Bridge deck carrying six lanes of traffic with a speed limit of 60mph
Up to 30 supporting piers carrying it across the curved approach viaducts
Steve Nicholson, the project director leading up to financial close, said: "When we set out our procurement approach three years ago we deliberately chose a strategy that would allow our potential private sector partners to innovate, save money for the public purse and add value to the project.
"Merseylink has delivered on all three fronts and we are excited to be concluding this deal today."
The main cost saving during design came from switching from a steel to concrete deck.
On the ground, the project is already bringing new jobs, contract opportunities and investment to the region.
Several initial contracts worth a total of £10m are ready to be announced by Merseylink with the majority going to north west businesses.
These include contracts for demolition works across the borough, a contract for the construction of the main haul roads to access the river works, and contracts for the construction of the cofferdams and trestle bridge to access the main bridge foundations.
Merseylink is also publishing its outline works programme for the three and a half year construction of the new bridge.
The next few months will see work starting on setting up the accommodation compounds on both sides of the river.
Final demolition work  will conclude with access roads built across the saltmarsh to the river in both Widnes and Runcorn.
Bridge construction will start with two pylon cofferdams in the River Mersey from floating barges.
Work will continue through to an anticipated bridge opening date of autumn 2017.
Once open, the Silver Jubilee Bridge will be closed for essential maintenance and be remodelled as a local bridge with improved facilities for pedestrians and cyclists and better public transport links.