Its will be submitting a full planning application for the project at the end of this month.
Demolition work is underway at the Marischal Square site so it can be handed to Muse later this year ahead of the scheme being completed in 2017.
Already Aviva Investors have committed to funding the scheme to create a mixed-use quarter for the city.
Marischal Square plan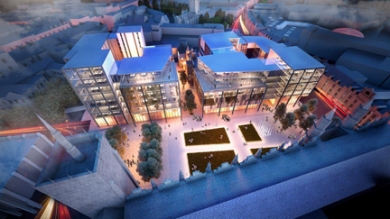 • 175,000 sq ft of offices
• 125 bed four-star hotel
• 14,500 sq ft of civic space in front of Provost Skene's House
• 42,900 sq ft of civic space on Broad Street between Marischal College and the Marischal Square site (one and a half times the size of Castlegate)
• Pedestrianisation of this section of Broad Street
• A mixture of granite and glass in the elevations
Muse's regional director for Scotland, Steve Turner, said: "The Marischal Square proposal fulfils the vision of the city's Bon Accord Masterplan by providing a new civic square for Aberdeen, creating a fitting setting for Marischal College as well as delivering a vibrant new mixed-use development."