John Sisk has also been selected to deliver highway improvements, landscaping and public realm works for Phase one.
The firm will also create a platform for the new £10m University Technical College, which Medway Council has gained funding to build.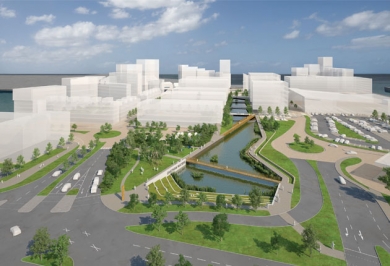 Peel aims to transform the 26 acre site at Chatham Docks with 950 homes, 430,000 sq ft of offices, a conference centre and hotel, along with associated infrastructure.
Legal & General will be funding the 73,000 sq ft Asda build on the southern part of the site close to Pier Road, and, on completion, ASDA will take a new 25 year lease.
James Whittaker, development director at Peel said, "ASDA's confirmation enables us to start work on the road improvements and landscaping in this phase breathing new life into a significant area of the dockland.
Chatham Waters is a wholly privately funded development with Peel investing £25m in Phase 1 alone and it is hoped it will give the region a real economic boost."
Adam Kerr, Head of long income transactions at Legal & General Property, said: "We are delighted to be providing the catalyst to this major regeneration scheme which will we believe will transform the local area, offering significant benefits both in terms of job opportunities and social amenities."
Planit ie, Traffic Transport & Highway Consultancy, Aedas, Mott McDonald and 5 Plus Architects are advising Peel on the scheme.