The Construction Products Association's latest forecast predicts rapid increases in private house building, together with growth in the infrastructure and commercial sectors.
Together these will drive activity up 4.5% this year and promise another two years of good growth on top .
Next year is expected to be another bumper year with growth reaching 4.8% before a slip to 4.3% in 2016.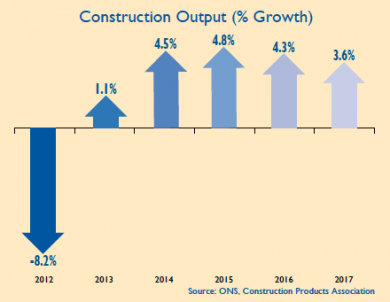 Dr Noble Francis, economics director of the association, said  "One year since the construction recovery began, activity is becoming firmly entrenched.
"The construction industry is now on track to grow 18% by 2017 and contribute an additional £20bn to the UK economy.
"We expect private housing starts to surge 18% in 2014 and 10% next year before falling to 5% in 2016 and 2017.
"It's important to note that private house building only accounts for 15% of total construction.
"Commercial, the largest sector, is expected to grow each year up to 2017.  The office sector in particular has recently shown growth, though demand is mostly in Central London.  We forecast offices construction to increase 7% in 2014 and 10% in 2015."
He added that last year's gains in the infrastructure sector would continue to 2017 when levels are anticipated to be 42% higher than in 2012.
Recently, rail has been the fastest growing infrastructure sector. It now looks forward to a steady £38bn investment programme by Network Rail over the next five years.
Roads work, which slumped by almost half in only two years, is forecast to grow every year to 2017, including 15% in 2014.
Francis said:  "The main risks to our forecasts arise around the issue of energy.
"Construction and manufacturing firms have serious concerns regarding energy security and supply.
"Constant delays to the nuclear programme and uncertainty regarding investment in gas-fired power stations only exacerbate these concerns."
Other key points in spring forecast
Public housing starts are set to rise 8% this year and 5% next as growth in private housing leads to increases in public housing via S106 agreements
Commercial office building to increase 7% this year and 10% in 2015
Infrastructure work to rise 10.1% in 2014 and 7.2% in 2015
Retail output growth of 4.0% is forecast in 2014 and 8.0% in 2015
Public sector construction is forecast to marginally rise 0.7% in 2014 and 2.3% in 2015 as delayed schools and hospitals projects start on site
Energy infrastructure output growth is set to slow from 15% in 2014 to only 5% in 2015.