The Enquirer understands that a gang of seven sparks left the job earlier this week after refusing to work through an umbrella-style payroll company.
The electricians want to be taken-on directly by Balfour Beatty Engineering Services.
Documents seen by the Enquirer show the sparks were being employed via a labour agency but were due to transfer to a payroll company next week following an HMRC clampdown on false self-employment.
Similar rows have already seen workers taken on the books by firms like NG Bailey.
Harry Cowap, London regional construction officer for Unite, said: "The employment arrangements are a disgrace for a job of this size.
"The men seem to have a different employer every week.
"It's very simple – they should be working directly for Balfour Beatty."
Balfour Beatty is part of the BBMV consortium with Morgan Sindall and Vinci carrying-out the £110m Crossrail contract.
The self-employment situation is causing unrest on sites across the country with electricians leading the way in protests.
Rank-and-file workers held a mass meeting in London last week to discuss the situation.
One source said: "This lot aren't going to stand by and take this.
"They aren't scared of direct action and know it has worked in the past."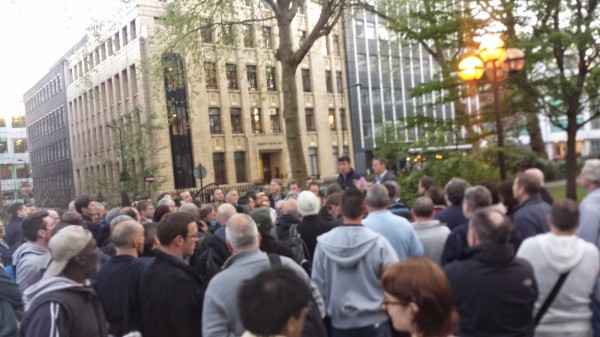 The mass meeting last week. Picture courtesy of JIB Electrician