According to the latest all-industry trade survey construction firms of all sizes across the industry are now reporting strong new-build activity and high expectations for the year ahead.
The first three months of the year also recorded the first significant jump in firms reporting tender price rises.
But these are being forced up by intensifying labour and materials price pressure, rather than strong margin growth.
While private housing remained the key driver in Q1, there was reported growth in commercial work and, for the first time, public school and healthcare work.
The number of building firms reporting tender prices rises jumped to 47% compared to just 2% in the final quarter of 2013.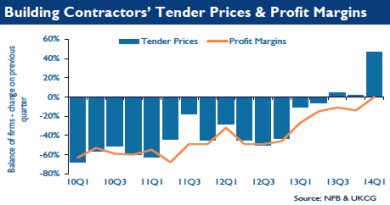 Three-quarters of building firms surveyed reported costs are on the rise, with most reporting rising materials prices and half labour cost jumps.
Dr Noble Francis, Economics Director at the Construction Products Association, said: "Firms across construction reported rises in output during Q1 and increases in orders and enquiries clearly indicate that activity will continue to rise throughout 2014.
"Tender prices rose in Q1 but any boost from this is likely to occur when the resulting work hits the ground later this year.
"Currently, the key concerns are rising costs and skills availability in specific sectors such as private new housing.
"Overall, the industry reported that there weren't serious problems recruiting construction trades.
"However, 61% of building contractors reported that it was difficult to obtain bricklayers during Q1 compared with 41% in Q4 and only 10% one year ago."
Paul Senior, National Chair of the National Federation of Builders, added: "Rising workloads and increases in future orders are good news, but behind those figures are areas of concern.
"Higher labour costs and a lack of available skills are a ticking time bomb that needs to be defused urgently otherwise, for many SMEs, the premiums attached to the cost of simply building will become unsustainable."
Key survey findings
57% of building contractors reported that, on balance, private new housing output rose during 2014 Q1 compared with 20% in 2013 Q4;
22% of building contractors reported that, on balance, commercial offices and retail output rose during 2014 Q1 compared with 8% in 2013 Q4;
11% of firms reported that, on balance, housing repair and maintenance output fell during 2014 Q1;
47% of firms reported tender prices rose in 2014 Q1 versus only 2% in 2013 Q4;
77% of building contractors reported that costs rose in 2014 Q1 compared with 63% in 2013 Q4;
89% of firms reported rises in material costs in Q1, considerably higher than the 65% of firms reporting material cost rises in Q4;
50% of firms reported rises in labour costs, higher than the 34% of firms reporting labour cost rises in Q1 and 7% at the start of the 2013;
61% of firms reported that it was difficult to obtain bricklayers during the first quarter of 2014, compared with 41% in Q4 and 10% one year earlier;