The estate on the edges of Bloomsbury comprises 360 homes built during the 1950s and 1960s, which will be preserved and expanded with the building of 93 new homes.
These will be added to the sides and rooftops of existing blocks. The amount of useable open space will be increased by around 12%.
The job also includes improvements to existing residential blocks, with new brick overcladding and insulation to replace the grey corrugated metal cladding added 20 or 30 years ago to the ends of several blocks and staircases.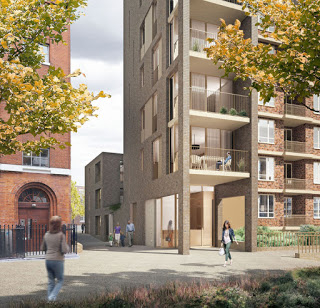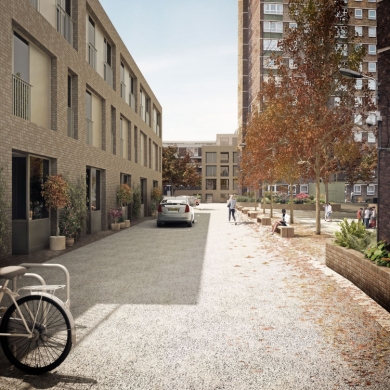 Hilary Satchwell, Director of Tibbalds Planning and Urban Design, said: "By undertaking the development directly, the London Borough of Camden is retaining greater control of both the costs and the design of the proposals as well as making sure its residents' needs are effectively met."
Avanti Architects has designed the proposals for the extensions and additions to existing post-war buildings on the estate.
Duggan Morris Architects and Mæ Architects are responsible for several standalone new build blocks and additions on underused open areas.
The proposals will be delivered in four phases and will take around five years to complete.
Tibbalds is also leading a team on the regeneration of the Bourne Estate, also being developed directly by the London Borough of Camden, for which planning consent was granted earlier this year.
Interested firms have until 16 June to submit PQQs, available from Camden's tendering website.
Project team
Tibbalds Planning – lead consultant, masterplanning and planning
Avanti Architects – architects for the additions and extensions
Duggan Morris Architects and Mae Architects in collaboration – architects for the standalone buildings
Cost consultant, employers agent – Kim Sangster Associates
Structural engineering – Campbell Reith
Mechanical & electrical engineering – TGA Consulting Engineers