The massive donation from Michael Uren OBE and his foundation will support the construction of a Biomedical Engineering Hub at Imperial College's innovation campus in West London.
The new building will form a key part of the College's new 25-acre research and innovation campus in White City.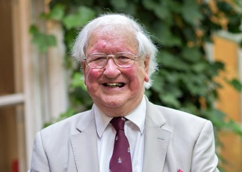 Uren donation will kick-start work on research and innovation centre
Uren, a 1943 Imperial graduate in Mechanical Engineering, founded Civil and Marine, and built it into one of the UK's foremost innovators in cement manufacture.
Sir Keith O'Nions, President of Imperial College London, said: "Imperial is profoundly grateful to Michael Uren and his Foundation for this remarkable gift, the most generous it has ever received.
"It will create a wholly new building and set of facilities for engineers and medics to come together and make new discoveries and innovations on an unparalleled scale. It provides enormous impetus to the development of Imperial West as an innovation district."
Uren said: " Imperial was inspirational when I first joined it as a young engineering student in 1940, when London was under attack every night, and it is inspirational today.  May it continue to be so forever."