Under the deal, Royal Mail will relocate their Islington delivery office to a new building on Eagle Wharf Road next to the Regent's Canal.
Imposing Edwardian buildings on the prime north London site have been left derelict for several years, while the deal to create the £350m Islington Square scheme has been pieced together.
The project will see 170,000 sq ft of retail and leisure space along with 356 flats starting from £550,000 to penthouses of around £3.5m.
These will be a mixture of private, affordable and serviced apartments.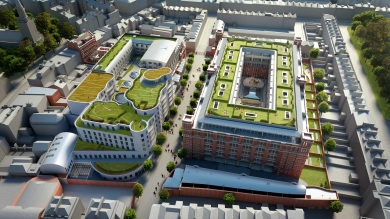 Sager's construction programme is expected to take 24 months, enabling retailers to open for Christmas 2016.
Giris Rabinovitch, CEO of Sager Group, said: "This transaction marks a major milestone in the development of Islington Square which will become a landmark retail and leisure destination and a welcome addition to this thriving area of London.
"It has been more than a decade since acquiring the original site and we are delighted that we have succeeded in bringing this project to life."
Sager will develop the site simultaneously to Royal Mail's building and moving to their new and modern facility which will be operational by summer 2015.
Sager has owned the majority of the site for a number of years while it obtained detailed planning consents. During this period it refined the design with the architect CZWG.