Tom Doyle was CLM project manager on the London 2012 stadium and more recently acted as project director on the £125m SSE Hydro Arena in Glasgow, which was built by Lend Lease.
Before working for CLM, Doyle was at Balfour Beatty for nearly seven years.
The club announced his appointment as it submitted its planning application to redevelop Anfield.
Liverpool is seeking detailed consent to expand the Anfield Main Stand and outline consent for the expansion of its Anfield Road Stand.
If granted, the proposals would see the capacity of a new Main Stand rise by 8,500, taking it to nearly 21,000 and overall Anfield capacity to around 54,000.
The outline proposals for the Anfield Road stand provide for an increase in its capacity of around 4,800 seats, taking the total stadium capacity to 58,800.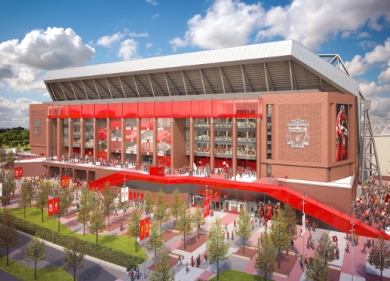 Construction work on the proposed Main Stand could begin early next year and it could be complete in time for the 2016-17 season.
Mayor of Liverpool, Joe Anderson, said: "The proposed redevelopment of the stadium is a hugely important part of our vision for Anfield – to create a thriving community in which people want to live, work and visit.
"The overall regeneration of the area will see £260m invested and will deliver hundreds of jobs.
"Liverpool Football Club's proposals for the stadium are a key part of this so today is a really important milestone."