The scheme includes the installation of floodlights and the rebuilding of the North/South Stand.
The club already has planning for four 56m pylons, which will be built at the stadium at a cost of £1.8m
The £15m stand will form the centrepiece of the adjoining Leeds Rugby stadium and Headingley cricket ground and is due to begin at the end of the 2017 season.
Later a new pavilion will be built next to the existing Carnegie Pavilion, followed by cantilever roofing over the rest of the ground.
The capacity of the cricket ground will increase from 17,000 to 20,000 in the redevelopment.
20-year redevelopment plan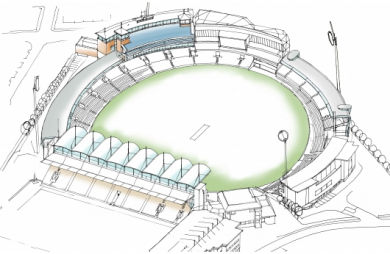 Phase One: Erection of four permanent floodlight pylons.
Phase Two: Rebuild North/South Stand, in conjunction with Leeds Rugby, to create three-tiered 5,000 capacity seating area and enhanced corporate facilities.
Phase Three: Add extra 900 seats to the upper tier of the North East Stand with the possibility of a cantilever roof from the side of the Carnegie Pavilion to the existing scoreboard.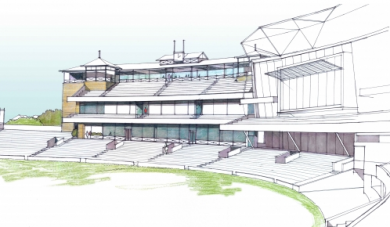 Phase Four: Build new Pavilion with five levels next to the existing Carnegie Pavilion.
Phase Five: Construction of a translucent cantilever roof to cover the White Rose Stand on the western side of the ground.
Phase Six: Landscaping on the White Rose Stand and North East stand concourses.
Major improvements at Edgbaston and Old Trafford, coupled with the emergence of the Rose Bowl, Chester-le-Street and Sophia Gardens as international venues, confronts the Leeds ground with greater competition to stage England games.
Yorkshire County Cricket Club Chairman, Colin Graves, said: "As other venues around the country continue to invest in their facilities, we cannot afford to standstill and expect that Headingley will always host international cricket.
"The stark reality is that if our stadium fails to evolve we will lose our Test Match status, which would be a devastating blow to the region.