The new figures released by the Department for Communities and Local Government bring the total number of starts over the last 12 months to 137,780, a 22% increase on the previous year and the highest level of house building since 2007.
But the rate of growth could be easing with the seasonally adjusted April to June figures flat compared to the first quarter of 2014.
Seasonally adjusted trends in quarterly housing starts and completions, England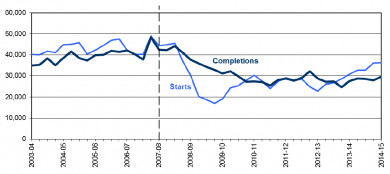 Private starts also only edged up 2% against Q1 to 29,890, although they were up nearly a quarter on the same period last year.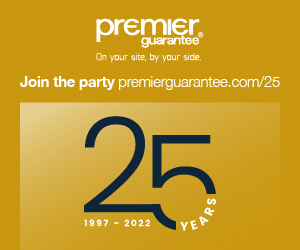 Housing and Planning Minister Brandon Lewis said the new figures were further evidence that the government's long-term economic plan to improve the housing market was working.
He added a growing pipeline of new projects was also emerging from the reformed planning system.
Last year successful applications for major housing schemes were up 23%, and planning permissions were granted for 216,000 new homes.
Total annual completions lifted 7% to 114,440. Seasonally adjusted completions in Q2 were 6% up on the previous quarter at 29,540 and 7% higher than the same period in 2013.