The first machines will be available from JCB dealers from next month.
Compact one tonne and two tonne dumpers are being targeted at house building and landscaping contractors, while 3-3.5 tonne models are aimed at general construction and rental businesses.
At the heavier end, both 6 tonne and 9-10 tonne dumpers will suit larger earthmoving projects.
JCB Chief Innovation and Growth Officer Tim Burnhope said:  "The addition of the site dumper product adds another dimension to the JCB product range.
"The JCB site dumper will have the fantastic benefit of being backed up by the JCB dealer network, with its renowned levels of service support."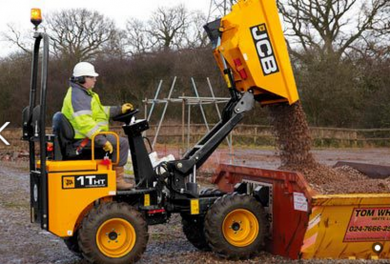 High-tip, forward tip and swivel skip models are available along with a range of engine outputs range from 20-120hp (15.5kW-90kW).
Both synchro-shuttle and hydrostatic transmissions also deliver ease of use and maximum travel speeds.
Heavy-duty articulating and oscillating chassis frames provide maximum durability and strength.
Folding ROPS protection ensures operator safety and large axle oscillation angles provide excellent traction and stability on the rough.
The JCB machines have been designed for ease of operation with a simple, clear dashboard and automotive-style controls.
The dumpers also feature best-in-class ground-level service access, with engine panels mounted on heavy-duty hinges.
Swivel tip models have a swing-locking device to ensure that the skip remains locked in position while travelling. In addition all 6-10 tonne models come as standard with high performance oil-immersed disc brakes for maximum stopping power and reduced maintenance.
The dumpers are being manufactured in the UK on JCB's behalf by Terex GB.
It was recently announced that JCB Power Systems has signed a deal worth £4.5m a year to supply Terex GB with the JCB Ecomax diesel engine, rated at 74hp (55kW), for use in its 6 tonne dumper models.
It also uses JCB transmissions and transfer boxes in its 6, 9 and 10 tonne machines.
The innovative JCB Ecomax engine meets the latest EU Stage IIIB/ US Tier 4 Final emissions standards without the need for a costly diesel particulate filter (DPF), simplifying maintenance for customers and reducing ownership costs.