The contractor aims to raise £340m in a rights issue to pay for the deal including Mouchel's debt and integration costs.
It will create a combined group with an order book of £9.3bn and a sector leader in the growing UK highways management and maintenance market.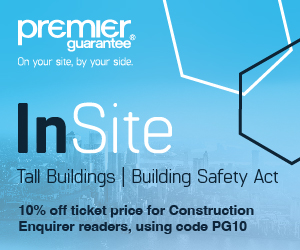 Kier expects to deliver £10m in annual cost savings, including £4.4m a year in corporate savings from reducing Mouchel's board.
Integration of the two businesses to create a £3.6bn turnover group with strong infrastructure design capabilities will cost an estimated £17m.
Haydn Mursell, chief executive of Kier, said: "Over the last three years, Mouchel has been transformed into a strong business with market leading positions.
"The combination of Kier and Mouchel, particularly in the provision of UK highways maintenance services, creates a leader in a growing marketplace."
Grant Rumbles, chief executive of Mouchel, said: "Kier and Mouchel are an excellent fit.
"The enlarged company will enable us to improve our offer to customers and to enhance the career opportunities of our employees.
"This deal is testimony to the successful turnaround of Mouchel following its 2012 restructuring. Refocusing the business on its core strengths and targeting profitable growth has brought us to a position where our order book is now more than £2.8bn."
On completion of the transaction in June, Mouchel chief executive Rumbles will stand down. Mursell will become CEO of the expanded group.
This latest expansion follows on from Kier's £221m acquisition of May Gurney in July 2013, where Mursell then finance director played a pivotal role.
Mouchel will give Kier access to long-term and, in many cases, recently won frameworks and contracts for the Highways England Areas 1, 3, 9 and 13, and complement Kier's capital works for Highways England.
Kier said the deal would place the enlarged group in a position to benefit from the new Road Investment Strategy, which sets out a long-term investment plan of £17bn on the strategic road network from 2015 to 2020.