The new Berkshire school forms part of Wokingham Borough Council's larger strategic development scheme for Arborfield, and will cater for pupils from the proposed residential development, as well as from existing communities in the borough.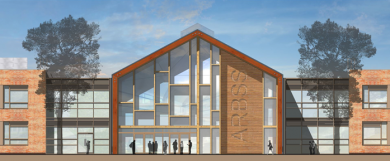 The school, which was designed by consultant Atkins, will be delivered in phases and will cater for up to 1500 pupils when completed.
The first phase will provide capacity to meet the initial Year 7 intake in September 2016, while the second phase will complete the school and sports facilities, increasing the capacity to 1,200 pupils by September 2017. The final phase will provide an additional 300 places for future growth.
Dawnus has previously completed projects for the Council at St Crispin's School and Bulmershe School.
The firm will deliver a two-storey school building with an footprint of 65,000 sq ft featuring two courtyards which will be landscaped to provide external classrooms and dining areas. It will also include playing fields and a floodlit all-weather pitch.