The decision to press ahead with construction is a major success for contractors Murphy and Hochtief who have been involved in front-end engineering the project for several years.
Sirius revealed this morning that it would be launching an underwritten share issue to raise £1bn to fund the initial construction phase of the massive project. Part of the funding package also involves support from Australian mining giant Hancock Prospecting.
The stage 1 funding will cover the direct costs of all site preparation, mine shaft excavations, tunnel caverns, project management and owner costs as well as provide certain contingency funds for the project.
Cash will be released over the first three years after commencement of construction.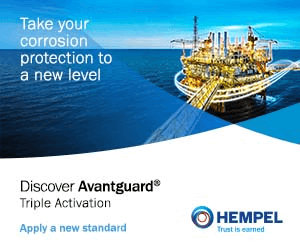 A further £1.5bn will be needed two years into initial construction to fund Murphy/Hochtief's 23-mile tunnelling contract, mine fit-out and harbour facilities at Teesside.
The deal needs to be rubber stamped by Sirius shareholders later this month, but if agreed will pave the way for construction of the vast mining project.
Chris Fraser, Sirius chief executive officer, said: "I am delighted to announce this proposed fully underwritten financing package which – together with our new strategic investor, Hancock, announced last week – provides the comprehensive Stage 1 financing required to start construction of our North Yorkshire polyhalite project.
"This project will create jobs in North Yorkshire and Teesside, and represents a significant business investment in the UK.  
"It's been a long journey to this point, and we still have some way to go, but I want to thank everyone who has supported the company in its efforts to reach this major milestone. 
"Once we have received shareholder approval, we want to get on with the job of delivering this compelling value proposition, not only for our shareholders but also for the North Yorkshire community."
Specialist firms within the Thyseen and Redpath group have the job for shaft sinking at the mine site.
The Murphy/Hoctief jv will construct the 6m diameter TB-bored tunnel to transport minerals from the mine head site at Dove's Nest Farm near Whitby to a portal near the town of Redcar.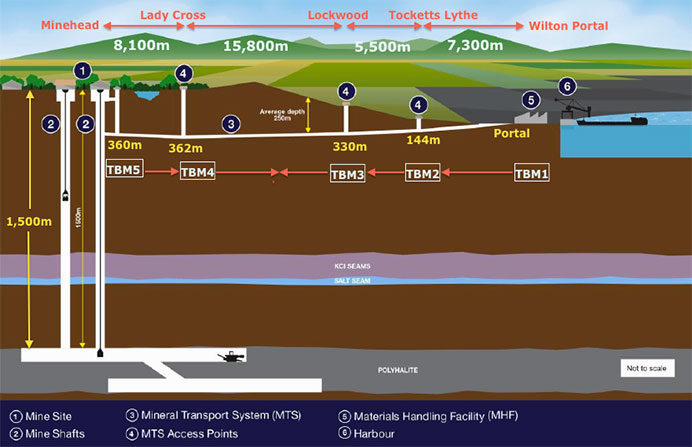 Designed by Arup, the plan is to use five hard rock TBMs, which will be lowered in at four intermediate staging shafts. The starting depth will be around 360m below the surface at the mine head.
Northern Powerhouse Minister Andrew Percy MP said: "Today's launch of Stage 1 financing for Sirius Minerals' North Yorkshire polyhalite mining project is a very welcome sign of progress.
"This project has the potential to create over 1,000 jobs, boost growth and generate billions of pounds of exports for the Northern Powerhouse.
"We support their efforts to help make the north a world leader in the multi-nutrient fertiliser industry.
"Already foreign direct investment projects are up nearly a quarter on the previous year and today's announcement is another vote of confidence in the Northern Powerhouse."