By the end of the decade, as many as 3,000 people are expected to live in a mixture of 1,472 flats and 148 town houses.
There will also be a food superstore, offices, shops, a hotel, restaurants and cafes and a "marine employment quarter".
The development on the former Vosper Thornycroft shipyard in Woolston is expected to create up to 1,000 jobs, mostly through superyacht builder Palmer Johnson, which also has planning permission to build a new shipyard there.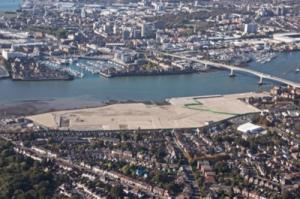 Attending the foundation stone laying ceremony Eric Pickles, Communities and Local Government secretary, said: "For every new development like this, there are communities across the country in desperate need of new and affordable housing in their area.
"That's why even though we are making efforts to cut the record budget deficit we have confirmed £1.25bn to guarantee most of the unfunded spending commitments made by the previous administration.
"This alone will protect over 8,000 jobs, and will mean work can start on 9,500 new social homes and 3,000 homes for sale at affordable prices."