The developer plans to create one of the biggest leisure and convention centres in Britain on a former coalfield next to South Yorkshire's Rother Valley Country Park.
Rotherham Borough Council finally gave gave full planning for the 1.2m sq ft phased YES! Project on the 327-arce site last week.
The site where developer Oak proposes to build huge leisure development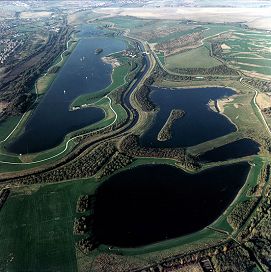 Steve Lewis, chief executive of Oak Holdings said: "This is a strategic step forward for the company and, indeed, the region.
"The consent demonstrates Oak's commitment to the YES! Project and this major regeneration leisure project, allowing us to proceed with renewed confidence.
"We have been extremely encouraged by the support of our existing partners and tenants and by an increasing number of recent enquiries. We are grateful for the continued confidence in Oak by RMBC."
YES has been Oak's main project since it reversed into AWG Services, a cash shell on Aim, in 2003.
Oak, an AIM-listed company with a market capitalisation of just £3m, expects to deliver the scheme in phases over coming years.
Leading extreme-sport company Venture Xtreme and high-tech golf driving-range specialist Baydrive Group are reported to be signed up, while other companies  have expressed strong interest.
As well as golf and sports attractions, YES! will include major indoor entertainment facilities, four-star resort spa and conference hotel, exhibition centre, restaurants, bars, cafés and shops related to activities there.
No date has been given for a start on the project.