The developer is reported by Bloomberg to be in talks with investment bank Schroders about taking a quarter of the space in what will be the City of London's tallest building.
A tenancy deal of this size would allow the company to secure the £750m loan needed to allow contractor Brookfield to proceed with construction.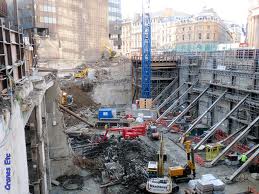 The contractor has carried out site enabling and foundation works but is awaiting a finance deal to start full-blown construction of the 228m spiral tower on Bishopsgate.
Four developers are presently vying to secure tenancy deals for around 2 million sq ft of skyscrapers in the financial district over the next five years.
These include British Land, Land Securities and Great Portland Estates.
No company has as yet committed to renting space in the Pinnacle since development started two years ago.
Legal firm Davies Arnold Cooper is in negotiations to rent about 60,000 sq ft.