The four bidders comprise Morrison Construction and joint ventures from Balfour Beatty and Morgan Sindall, John Sisk and Roadbridge, and Sir Robert McAlpine with Costain.
Transport Scotland received six prequalification submissions, shortlisting the four following an assessment of each applicant's financial and technical capabilities.
In November, each consortium will enter into competitive dialogue with Transport Scotland  to discuss their proposals, before submitting a final tender in spring 2011.
It is anticipated the award of the M9 Junction 1a contract will then follow in July 2011 with construction expected to begin soon after.
Transport Minister Stewart Stevenson: "This represents another significant milestone in the procurement of the Forth Replacement Crossing."
"The shortlisting demonstrates that, subject to the approval of the Forth Crossing Bill by the Scottish Parliament, the project remains on schedule for delivery on time and within budget by 2016."
He added: "It is very pleasing to see the enthusiasm demonstrated by the construction industry in bidding for the FRC principal contract has also extended to the M9 Junction 1a work.
"This level of competition will continue to help us ensure the Forth Replacement Crossing represents the best value-for-money for the public purse."
Works involve an upgrade of Junction 1A on the M9, slip road improvements and widening of the existing M9 between Junction 1A and the River Almond crossing.
The successful contractor will also build a new M9 overbridge and install a 13-mile intelligent traffic system that will guide motorists into the correct lanes and vary speed limits.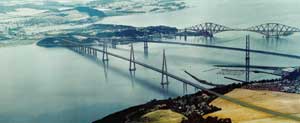 The total cost of the Forth Replacement Crossing projects is estimated at £2.3bn.
Two consortia are in the chase for the main bridge project.
The Forthspan consortium – which comprises Morgan Sindall, Bam Nuttall, Balfour Beatty and MT Hojgaard – is up against a joint venture of Hochtief, Morrison Construction, Spanish firm ACS and US contractor American Bridge.
Invitations to tender for the main cable-stayed bridge project are due to be issued in November, with a final tender submission date of December 2010.
Subject to the Bill receiving Royal Assent, the main bridge contract will be awarded in Spring 2011.