The £120m Heritage Quarter project planned by developer Edinburgh House was to be the cornerstone of regeneration plans in the Kent town.
In August, the developer amended the plans after a public consultation highlighted concerns about the height of some of the buildings.
Gravesham Borough Council planning officers submitted a report recommending that the new scheme be approved, but the council's independent regulatory board overturned the recommendation at a special meeting yesterday.
The developer  spent £4m and three years preparing the application to build 400 flats, a hotel, restaurant and leisure facilities, shops and offices.
But local campaigners argued the scheme was too large and not in keeping with the existing architecture.
It also has a new town square, 1,000 parking spaces, improvements to St Andrews Gardens and the river walkway and new community facilities.
Edinburgh House managing director, Tony Quayle, said: "The decision puts Gravesend's economic future in grave danger.
"In an era when town centre development in the UK has all but ground to a halt, it is surprising to see inward investment of this scale thwarted.
"This decision has seriously harmed the prospect of creating new jobs, rejuvenating the town centre and attracting new businesses."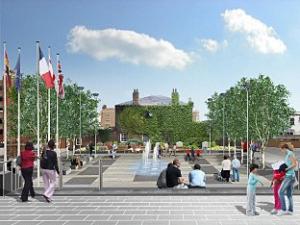 Meanwhile, work is set to begin on the Transport Quarter overhaul, renovating the train station, building a bus interchange, and creating a two-way road system, up to 60 homes, car parks and a new public square.
The scheme is expected to be complete by 2015 and is about to kick-off with the re-routing of traffic around the Civic Centre and the improvement of the footpaths.