The scheme, which will be built on green belt land, will now go before Eric Pickles, Secretary of State for Communities and Local Government for final approval.
Zoo bosses hope to attract two million visitors  a year with the striking biodome building, which will house an African rainforest and ranks as one of the biggest structures of its kind in the world.
Phase one of the works includes the 40m high biodome, Heart of Africa entrance village, new road access from the A41, creation of a new entrance and a remodelling and extension of the car park.
Outline proposals also given the go ahead include a 150-bed hotel near the zoo's existing entrance, an aquarium,  African Savannah zone and gardens.
Zoo bosses hope the hotel will encourage visitors to stay more than a day.
Chester Zoo suffered a major set back in July when the North West Development Agency pulled £40m in funding as a result of the Government cuts.
But backers are vowing to press ahead to make Chester Zoo a resort destination.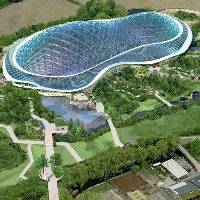 An artist's impression of the new £225m Heart of Africa Biodome at Chester Zoo, which has been given the green light.
Planning committee councillors voted by nine to two in favour of granting planning permission.
Councillor Stuart Parker said: "I can imagine that the design of the Biodome would blend in and become 'cloud-like' from a distance, more so than any of the pylons blotting the landscape.
"We must see the bigger picture here as this is going to be fantastic for Chester and the bigger sub region. It certainly outweighs negative factors."