The £10bn Big City Plan covers around 800 ha on five key development sites where big new schemes will be focused.
Three sites have been allocated for tall buildings, as part of the council's plan to build 16.1m sq ft of development in the city centre.
Council leaders are talking to the Treasury about the possibility of Birmingham becoming the first UK city to set up Accelerated Development Zones – clearly defined areas where the council would be able to borrow against the rate income paid by new businesses.
The city core area will be expanded by over 25% under the plan, with key areas of growth including the revamped New Street station, expected to open in 2015, and a redeveloped Snow Hill district, currently blighted by stalled developments.
Pedestrian links will be built to boost the city's Jewellery Quarter and make Birmingham a more walkable city, while new cycling routes will help the city achieve a 60% reduction in carbon emissions by 2026.
Big City Plan
In excess of 1.5 million sq metres of new office, retail, leisure and cultural floorspace
A £2.1 billion growth in the local economy per annum.
Five key areas of transformation based around New Street Station, Westside, the Snow Hill District, Eastern Core Expansion and The Southern Gateway
65,000 sq metres of new and improved public spaces and 28,000 metres of enhanced walking and cycling routes
Over 5,000 new homes to attract more families.
Sets out the value and role of heritage in supporting the creation of an authentic city centre.
Launched by council leader Mike Whitby, the 92-page document outlines Eastside, New Street Station, the Southern Gateway around the wholesale markets site and Westside stretching from Broad Street to Icknield Port Loop.

One of the big new public squares proposed includes a development to be called Moat Square on the markets site.
Westside includes Paradise Circus and Miller Development's 2.3m sq ft Arena Central project which is currently being worked up.
The £600m redevelopment of New Street Station is due to be complete in 2015 where John Lewis has had discussions with the council to open a giant 300,000 sq ft store.
In the Snow Hill District the council wishes to focus on public space improvements.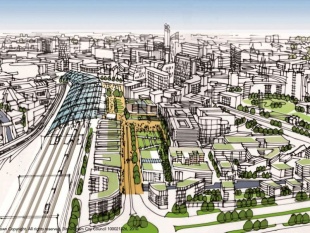 A detailed masterplan for Eastside is due out next month and include the new High Speed 2 station, a new campus for Birmingham City University, Quintain's City Park Gate project and Grainger and Development Securities' Curzon Park.