In total Morris Homes plans to build 344 eco homes in the first phase of a long-standing vision to regenerate the South Bank of Peterborough's River Nene.
The project is designed to demonstrate to the house building industry how massive reductions in carbon emissions can be achieved by adopting improved design and construction technologies.
Morris Homes is working with sustainable architecture specialist Browne Smith Baker after being selected as the preferred developer following a national competition as part of the Carbon Challenge programme.
The three landowners for the 17-acre site – Peterborough City Council, the HCA and the East of England Development Agency – have signed agreements with Morris Homes, which submitted a planning application last week.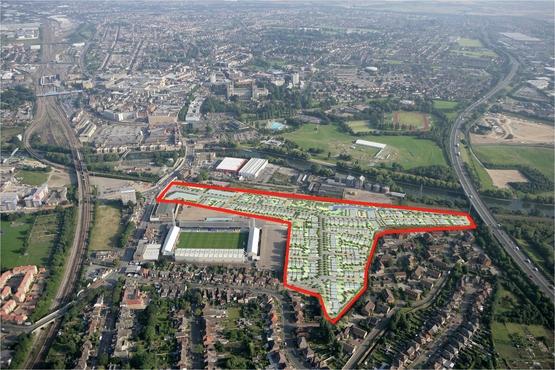 The development will be built to Level 6 of the Government's Code for Sustainable Homes, and include, a sustainable urban drainage system (SUDS) and carbon zero energy generation alongside retail and community facilities.
Peterborough City Council leader Councillor Marco Cereste said:  "The decision to invest in this carbon challenge development in Peterborough is important for our long-term vision for the South Bank.
"It underlines Peterborough's environment capital credentials and its capacity to deliver innovative, leading-edge projects, demonstrating how carbon emissions can be reduced nationally and globally."
Martin Edmunds from Morris Homes said: "We are in the enviable position of being able to create something truly visionary.
The feedback and comment from our public consultations was very useful and we believe our proposals fulfil the carbon challenge criteria in an exciting way."
The HCA grant is part of a total £57m allocated to provide 1,787 new homes nationally, which will house approximately 6,400 people.
In the UK, more than a quarter of all carbon emissions come from residential properties.
In response to this challenge, the government's Code for Sustainable Homes requires the building industry to make ever-greater reductions in carbon emissions over coming years with all new homes being built to 'zero carbon' standards after 2016.
The HCA's Carbon Challenge programme challenges designers and house-builders to show how Level 6 of the Code can be delivered.
The first Carbon Challenge demonstration development is being constructed by Barratt at the site of a former hospital at Hanham Hall, South Gloucestershire.