Chancellor George Osborne said over the weekend he had spared several vital infrastructure projects and would give councils new spending freedoms to stimulate growth.
Osborne said he was declaring war on welfare and waste to ringfence cash for health, education and infrastructure.
Among schemes now expected go ahead, which the government hopes will shift attention away from eye-watering cuts elsewhere, are:
• London's £16bn Crossrail link
• £430m Mersey Gateway bridge
• £69m for expansion of diamond synchrotron at Harwell in Oxfordshire
• £230m to help 2m homes in rural areas access faster broadband speeds by 2015
Speaking on the BBC's Andrew Marr programme on Sunday, he said: "The priority here has been to target waste and welfare, to invest in our health care, to give real increases in the school budget and to invest in the things that are going to make our economy strong," he said.
"Projects like Crossrail, which will go ahead, projects like the Mersey Gateway, which is going to go ahead.
"Those things are actually going to get us out of this stronger and able to pay our way in the world."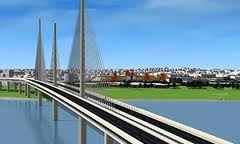 The 1km long, cable-stayed bridge project was shelved in June, when the Department for Transport refused to guarantee its £83m support for the scheme until after the review.
About £22m has already been spent on the bridge project although most funding will largely be met by the private sector and road user charging.
It has cross-party support across the region and many major business backers.
Meanwhile, 35 business leaders have signed a letter published in the Daily Telegraph today urging Osborne not to water down planned spending cuts.
The letter – signed by Marks & Spencer chairman Sir Stuart Rose, BT chief executive Ian Livingston, Ruby McGregor-Smith at Mitie and chairman of Hammerson John Nelson among others – says there is 'no reason to believe' that the Government's plan to eliminate the £109bn structural deficit within four years will undermine Britain's economic recovery.
They said that extra job creation in the private sector will compensate for lower activity in the public sector.
"Addressing the debt problem in a decisive way will improve business and consumer confidence," they added.
"Reducing the deficit more slowly would mean additional borrowing every year, higher national debt, and therefore higher spending on interest payments."