Construction work on the 2m sq ft Riverside South scheme was halted at basement level months ago when the banking giant expressed concerns about London's future as a world-leading financial centre.
Early fears over a punishing regulatory regime for banks, talk of a bonus tax and the impact of the government's austerity measures led the bank to seriously question the new HQ plan.
A report in the Daily Telegraph suggests that the Government has won the bank round and it will shortly announce that it plans to proceed with the huge stalled Docklands site.
The bank set a loose deadline of the end of the year to make a decision. In August it said it would not quit the UK altogether but was looking for the best deal on a London site.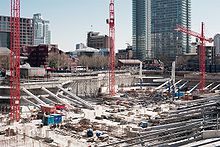 Canary Wharf Contractors has laid the foundations of the building, designed by Lord Rogers's firm Rogers Stirk Harbour and Partners. If JP Morgan pulled out, it would have to pay for work done plus a £76m forfeit.
JP Morgan bought the site from the Canary Wharf Group in 2008 for £237m.