Kengo Kuma & Associates' entry for the building on the banks of the River Tay in Dundee was unanimously chosen from six shortlisted proposals for the £50m development.
The future of the Dundee plan now hinges on whether the Scottish government will support it when the budget is fixed.
The project needs £15m from the devolved government and similar amounts from European and lottery funds, and from private sector donors.
Detailed design work will continue throughout 2011 and work is expected to start in autumn 2012.
The ambitious plan is being spearheaded by the Victoria and Albert Museum, the University of Dundee, the University of Abertay Dundee and Dundee City Council.
Competing proposals included a rock-shaped building by Vienna's Delugan Meissl Associated Architects and a large glass building by New York-based firm REX.
Mike Galloway, director of city development for Dundee City Council and a member of the panel, said: "The Kengo Kuma design gives us something which is bold and ambitious but buildable and practical.
"It is a beautiful stone building which elegantly meets the requirements we laid out in the brief. This is a harmonious and integrated response to this unique site, which enhances the overall waterfront project."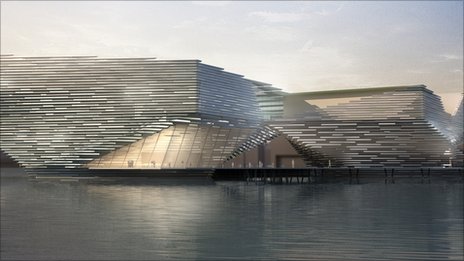 The winning design is by Japanese architect Kengo Kuma
Architects across the globe were invited to submit bids earlier this year. the other designs were: