The board yesterday formally endorsed the work schedule for the St George's Park project at their November meeting and also agreed to underwrite the project to the tune of  £105m.
Bowmer & Kirkland is believed to have beaten-off competition from Kier and Shepherd to win the contract.
Last month the Football Association confirmed it had agreed 'heads of terms' of deal with Hilton for a 250-bedroom hotel at the St George's Park complex, in Rangemore.
The much-delayed project, first put forward in February 2001, is intended to provide world-class coaching and training facilities for England teams.
Building work on the centre is due to be completed in the summer of 2012.
The centre is vital to training a new generation of English footballers to compete at the highest level.
FA Board member and Chairman of the National Football Centre Board, David Sheepshanks, said: "Today's decision means that we can open in 2012 and help to deliver the first exciting legacy of a golden summer for sport in this country.
"It will herald the concept of a University of Football as we intend to affiliate with Higher Education, Further Education and business schools to improve and advance the many career paths in football."
St. George's Park will be the hub to a workforce of 1,400 FA Coach Educators, who in turn will train in the region of 250,000 coaches by 2018.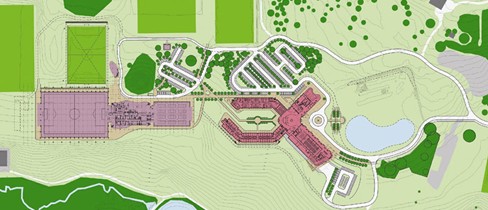 The Park's facilities will comprise 12 full-size football pitches including one synthetic pitch and one full-size indoor facility along with a multi-purpose sports hall.
The site will feature a 250-bed four star hotel, a regional conference facility, banqueting suite, training and seminar rooms, including a 90-seat lecture theatre and modern digitally equipped library.
Linking the buildings will be players' changing facilities, a fully-fitted gymnasium and hydrotherapy suite with top flight sports medicine and sports science facilities.