The plan to overhaul a large area of Penrith town centre broke down last year after the main backer National Australia Bank withdrew funding.
This prompted Sainsbury's to step in to part fund the stalled Cumbrian project as long as it gained planning permission for a new superstore.
The store giant has to start work by January to secure grants for the affordable housing element of the scheme.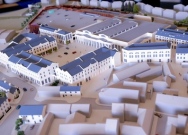 The scheme has also been downsized as part of the budget review, and will now see 61 affordable homes built alongside 112 private flats. There will also be an element of office building and 754 car parking spaces.
Work on the scheme depends on Sainsbury's meeting 59 separate conditions.
This includes agreements over everything from the provision of affordable housing to the artwork on the walls, and from the supermarket's opening hours to the materials used on external surfaces.