The winning contractor of south west Area 2 will be responsible for over 1,100km of major roads across 10 counties and local authorities.
Under the deal, the successful firm will provide integrated network management, maintenance, improvement activities, incident management and contingency planning on trunk roads and motorways in the region.
Duties will also include routine and cyclic road and bridges maintenance works, winter maintenance and delivery of road, bridges and technology schemes worth up to £4m, although this limit may be raised to £8m.
The previous Area 2 Performance Team was the first in the country to sign the new Enhanced Managing Agent Contractor (EMAC) contract with managing consultants, Balfour Beatty Mott MacDonald.
The maintenance and operation deal will run for five for five years from 1 July 2012. The Bristol office of the Highways Agency could extend the arrangement for three years.
Interested contractors can obtain further prequalification information from https://highways.bravosolution.co.uk. PQQs need to be submitted by 25 January.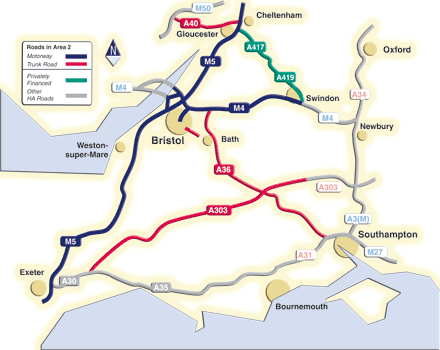 The roads we are responsible for are:
M4 (J15-23)
M5 (J9-31)
M32 (M4 J19 to J3)
M48 (M4 J21 to J2)
M49 (M5 J18a to M4 J22)
A30/A303 (Honiton to Wilts/Hants boundary near A338 Junction)
A4 from London road to Box roundabout
A36 (Bath to M27 J2)
A40 from M5 J11 Westwards to Herefordshire border
A46 (M4 J18 to A4 east of Bath)