Work to deliver the 37-storey scheme is expected to support 3,000 jobs throughout the construction process.
Piling for the Rafael Viñoly designed building will start this week with completion to ground floor planned for February 2012 and final completion anticipated in early 2014.
When complete, the 690,000 sq ft building will be topped by a public sky garden with the larger floor plates of up to 28,000 sq ft on the higher floors to appeal to a wide range of prospective tenants.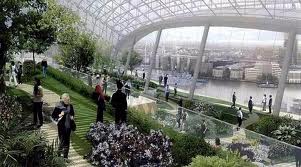 20 Fenchurch Street will bring needed Grade A office space to a supply constrained central London market of 2014 as more than 3m sq ft of leases are expected to expire or see breaks potentially exercised per annum during the next four years.
Land Securities and Canary Wharf Group have been appointed joint development managers and both are responsible for the leasing, with Land Securities taking the lead.
Canary Wharf Contractors is the construction manager, now with a track record of developing over 15m sq ft of grade A office space in London.
George Iacobescu, Chief Executive Officer of CWG said: "We are delighted to be able to apply our extensive high rise experience to such an iconic development. We look forward to working alongside Land Securities on this exciting project, which will be yet another step forward for London's economy."
Robert Noel, Managing Director, London Portfolio, Land Securities, said: "In January 2010 we were the first property company to commit to starting major developments in London in this cycle, as we saw a supply constrained market evolving for prime office space between 2012 and 2014."