Hackney Council is investing £16m during the next four years, while developer Berkeley Homes ploughs in more than £30m, and the Housing and Communities Agency releases £15m to get the next phase of the huge scheme moving.
The development programme will deliver a range of new facilities including a health centre, and retail and commercial opportunities.
This follows hot on the heels of the 1,000 homes already being built, as well as a new community centre and Skinner's Academy, completed in November.
Planning permission was also granted earlier this month for construction work by Berkeley Homes to take place at the Horston and Sherwood, and Newnton Close sites, with Phase 2 being considered in March, to build together a total of 226 homes for social renting, 182 for shared ownership, and the remainder for private sale.
Taken together, the funding and planning approval mean that nearly half of the 4,600 homes planned for the 20-year regeneration programme are now either under construction or due over the next five years.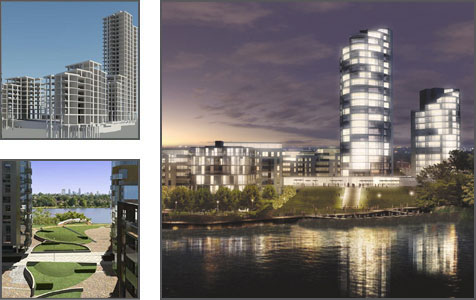 Cllr Karen Alcock, Deputy Mayor of Hackney, said: "Hackney Council made a pledge to residents that despite the economic climate we would find new and innovative methods with partners to provide housing at Woodberry Down.
She added: "Hackney is also among the top-performing London boroughs for affordable housing provision, and is on course to exceed a three-year total target of 1,961 affordable homes by 2011."
Justin Tibaldi, Managing Director of Berkeley Homes (Capital), said: "Woodberry Down is one of the most significant regeneration schemes to be launched in the country in the past decade.
Berkeley Homes are totally committed to it and will continue to work closely with our partners to ensure that together we deliver the investment necessary to create a real, sustainable community where people will choose to live, and that provides long-term social and economic benefits for the wider area."
Ruchell Peng, Genesis Regeneration Manager for Woodberry Down, said: "This is another positive step for Woodberry Down, and a good sign that it's all taking shape.
"It is a real achievement that the partnership work at this important site is starting to bear fruit and is further proof of Genesis' work to deliver the kind of houses and services that local communities deserve."
Genesis will acquire and manage around 1,900 affordable rented and intermediate homes over a twenty year period. This equates to 41% of the total. The first new homes for social renting to become available at Woodberry Down are expected to be ready for occupation by Spring.