East and North Herts NHS Trust in Stevenage selected the Integrated Health Projects joint venture to carry out its continuing programme of work at the Lister Hospital.
Over the next few years, Phase 4 will be progressed including a new ward block, emergency department and theatre/endoscopy block.
The contract has been sub-divided into a programme of work packages. The first two smaller jobs in the 11 project programme should start construction in April and include a new ward and mortuary facilities.
Work on a £19m two-storey ward block will begin at the start of January 2013 with a £20m accident and emergency block and £20m surgery and endoscopy building starting up over the following six months.
The Trust's chief executive, Nick Carver, said: "Although we are awaiting the formal approval of our overall, 11-project phase four business case, we needed to press ahead with both of these two schemes to ensure we were able to meet the immediate clinical needs of our patients.
"Some £70m is being invested already in the new Lister Surgicentre, maternity wing and car park at the hospital, all of which open fully during 2011.
"The fourth and final phase of the Lister's transformation should see another £70m invested in major new facilities by 2014 – including a brand new emergency department, ward block and operating theatres."
The ICH team has also been selected for reconfiguration work at an inpatient mental health facility at Whyndyke Farm, near Blackpool, under the NHS Procure 21+ framework.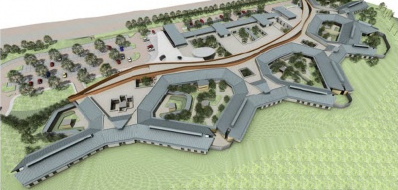 Inpatient mental health facility at Whyndyke Farm, near Blackpool
Property consultant Drivers Jonas Deloitte was appointed to project manage the new £45m facility on behalf of Lancashire Care NHS Foundation Trust, which funded the project with Ryhurst.
Last year, Beatty Group, Healthcare Partnership Solutions, Integrated Health Projects, Interserve Project Services, Kier Regional and Willmott Dixon Holdings were named for the NHS £4.5bn Procure 21+ framework, covering six years.
The NHS said it will save £200m in procurement costs over the lifetime of the framework. Procure21+ can be used by any NHS organisation or non-NHS organisation collaborating with an NHS organisation providing a facility with a health component.