The contractor's owners also confirmed the Bovis name will be phased out over the next 18 months, as it posted half-year results.
In a statement, the Australian parent company said the new approach would provide greater clarity and consistency for all stakeholders.
The process of ditching the name in favour of Lend Lease starts from today.
Dan Labbad, Chief Executive Officer of EMEA, Lend Lease, said: "Simplifying our branding and moving to a unified name, 'Lend Lease', signifies an important and exciting step under our regionalised business structure.
"In addition to the benefits that a unified brand delivers, we will continue to provide best in class services to our partners and clients."
To help restore turnover levels, as the Olympic athletes village winds down, Labbad aims to bid for smaller jobs than Bovis would be traditionally known for.
This change in strategy will see it still chase the big construction management work as well as mid-market work in the £50m  range.
Despite a series of cost-cutting measures across Bovis Lend Lease's European divison pre-tax profits also dipped to £5m from £7m against same time last year.
But a tighter grip on costs helped trading margins edge up from 1.25% last time to 1.5% in the final six months of last year.
Lend Lease said trading conditions remained challenging across both the UK and continental Europe.
Key contributions to gross profit margin included the Athletes' Village, BBC broadcasting centre, Ministry of Defence projects and its BP Global Alliance project across Europe.
New work secured revenue increased to £476m and includes Regent's Place – North East Quadrant in London and the Scottish National Arena in Glasgow.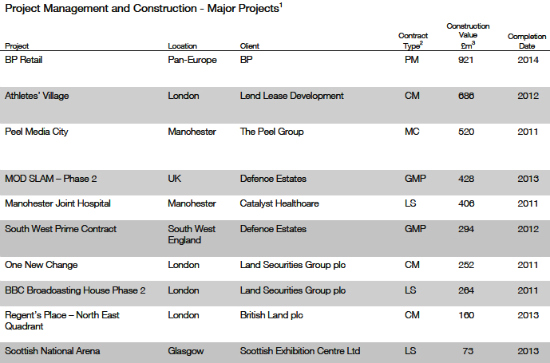 Worldwide Bovis Lend Lease and other project management and construction operations delivered flat profits at £52m on turnover down 25% at £2.1bn.
Bovis operations in the US made a small loss while profits at Lend Lease constructions operations in Australia and Asia slipped slightly to £40m and £10m respectively.