The council has just given the Highmead development planning consent for 120 homes, 1,000 sq m of commercial space located on main high street and a community building.
Enfield council will also transfer a nearby car park to the successful bidder.
The new development will replace a tired 1960's tower block as well as a commercial parade.
Contractor Meeres is currently on site undertaking site clearance works and soft stripping the tower block.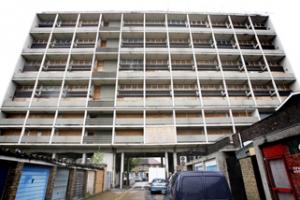 Highmead House will be demolished in July
Cllr Doug Taylor, Leader of Enfield Council said "For years the Highmead building has been left to deteriorate and has had a detrimental impact on the lives of residents as well as harming local businesses.
"The new plans for Highmead demonstrate Enfield Council's commitment to architecture of the highest quality, and will deliver much needed new housing, shops and community space"
Developers and housing associations have until 1 April to prequalifiy. Further information is available from Peter George, Project Manager Strategic Housing at email:Peter.George@enfield.gov.uk