In its annual business plan published today the Agency said it aimed to unearth big savings and efficiencies by benchmarking performance across suppliers and against other government departments.
The efficiency drive comes as the Agency faces a detailed review by Alan Cook, the new non-executive chairman, who is due to make recommendations to the Transport Secretary in October.
The Agency will move away from hard project targets to a performance based measure of highways.
New benchmarking measures include:
Reliability of journeys on motorway and A road network.
Cost of maintaining the motorway and A road network per lane mile.
Cost of operating motorway and A road network per vehicle mile.
Mean and median average incident times on motorways.
It also committed to limiting the number of health and safety incidents affecting construction and maintenance workers through the Aiming for Zero programme.
Graham Dalton, Highways Agency chief executive, said: "In maintaining the network, we will ensure safety and serviceability of condition but at a lower cost through a number of initiatives.
"These include improved commercial and asset management, the introduction of new maintenance contracts, a review of technical standards and looking at where and when we do work."
This will involve balancing the impact of road works with the higher cost of night and weekend working.
He added: "In improving the network we will manage an affordable programme of road schemes, driving down our costs and the costs from our supply chain by looking to the construction industry to work with us through a range of measures including challenging scope and unit cost."
The new StART rankings of contractors and consultants will also feed into the improvement plan – see story
Major projects approved for start in 2011-15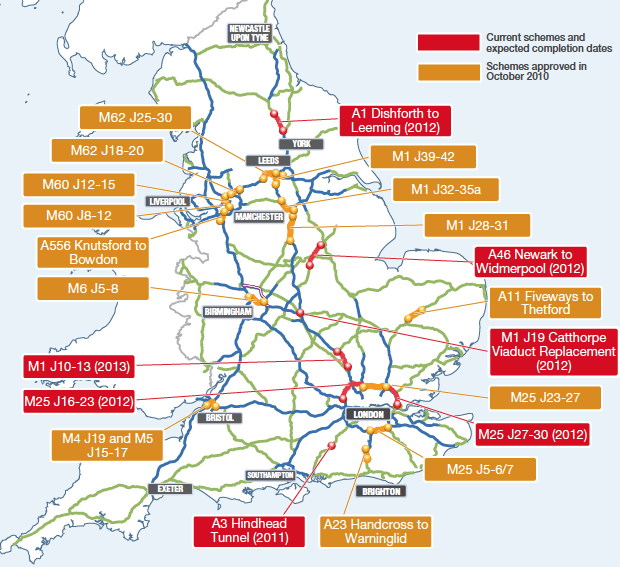 Detailed spending plans to 2015