The club will now concentrate on raising funding for construction of its new home.
The Tigers have struck a deal with Opus Land (North) to redevelop its present Wheldon Road site for a large superstore complex, which will raise the cash to build.
But this will not come into force until Wakefield council gives planning permission for the planned retail development.
Castleford Tigers chief executive Richard Wright said: "The delivery of the new stadium will act as a catalyst for further development of the Glasshoughton site and will also kick start regeneration in the Wheldon Road corridor and town centre.
"As part of this agreement, Opus Land (North) and Palmer Capital will fully fund the new stadium construction immediately once planning permission has been granted for the current site.
"This is the final piece of the 'jigsaw' in terms of delivering the new stadium.
"We are now firmly focused on achieving planning permission for the Probis Coliseum as quickly as possible and we ask Wakefield Council and the town of Castleford to continue their fantastic support of the new Stadium project.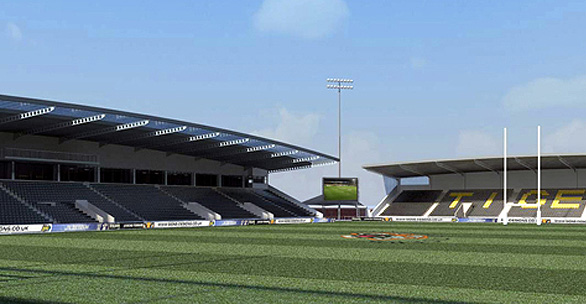 How the new stadium will look once completed for the start of the 2013 season