The 12-acre Leamouth Peninsular site opposite the Greenwich O2 Centre will be built in stages with new homes and offices contained in 13 buildings ranging from three to 27 storeys in height.
Irish property developer Ballymore was badly hit by the Irish economic crisis, but chairman Sean Mulryan said he was confident financial pressures would not threaten the Leamouth project.
He said: "Now that we have got the green light, we will be cracking on immediately and expect to be marketing this site in the autumn."
The site was formerly occupied by the Pura Foods oil processing plant, which relocated to a new facility in Essex in 2005. The previous buildings have now been demolished and the site cleared.
Tower Hamlets Council previously rejected the developer's plans because of concerns over inaccessibilty and financing.
Ballymore will now build a new footbridge linking the peninsula with Canning Town station.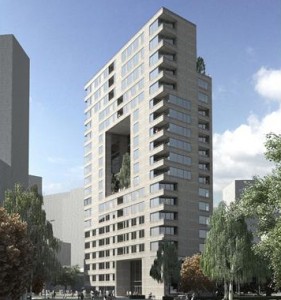 Phase one, at the southern end of the site, will include 537 homes, 54,000 sq ft of offices, an art gallery, shops and community facilities, and 275 parking spaces.
Phase two will include up to 1,169 homes, 25,000 sq ft of business space, more shops, and a school.
Completion of the project is expected to take five years.