The Bass Maltings site in Sleaford is ten times the size of London's Tate Modern gallery and developer Galdedale plans to convert the nine blocks into 204 flats, restaurants, offices, houses, and a doctors' surgery.
The developer hopes to start the huge conversion of the historic Grade II-listed site later this year.
A Gladedale spokesman said: "We are very pleased to have reached this significant milestone in the regeneration of Sleaford Maltings.
"The plans approved will deliver a vibrant community of much-needed residential apartments, office space, healthcare accommodation and retail facilities.
"We will now implement a comprehensive marketing campaign to target potential key tenants and prospective homebuyers."
After being opened by Bass in 1907, the Maltings closed in 1958 and was briefly used for chicken rearing.
It was threatened with demolition until Gladedale enlisted the aid of the Prince's Regeneration Trust for advice on the rebuilding.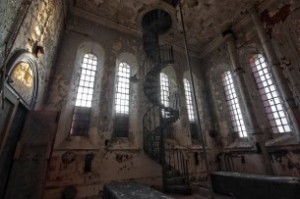 Block one of the Maltings will be fully preserved. Parts of the industrial architecture will be retained as English Heritage displays and original iron windows will also be retained.